ABOUT: TOKYO KOKUSAI CHISHIKI GAKUIN
Tokyo Kokusai Chishiki Gakuin has implemented 600 hours education program to comply with variable needs and recent trend requested by leaners, and has provided excellent educational environment by carrying out high-quality and efficient teaching and learning method in a short term conducted by high motivated teachers and staffs. Furthermore, not only providing time and place for learning Japanese, we can also make out another chance to all the learners in the premise to acquire varied communication skill by caring each other in cross-cultural daily occasion.
Besides, TKCG has been full-supporting persons' carrier, ever after graduation, for the students who desire to go on to the next stage of education in Japan (cf. Career College or University), find job in Japan and/or make challenge in the each of mother country.
LOCATION
Tokyo Kokusai Chishiki Gakuin is located in Oji Kita-ku Tokyo. It is accessible via Tokyo Metro Namboku Line, 6 minutes walk from No.1 exit of Oji Kamiya Station and via the JR Keihin-Tohoku line, 12 minute walk from north exit of Oji Station. Oji Kita-ku is famous for it's Edo Era vibe which is also famous for their tourist attractions such as the Oji Inari Shrine, Bank note and Postage Museum and Otonashi Shinsui Park.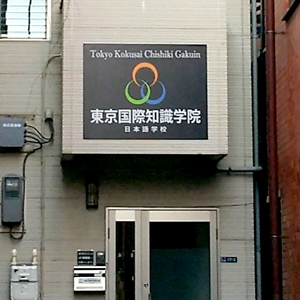 FEATURES 
Japanese language education by qualified teachers

Various Traditional Cultural and Sport Activities for understanding Japanese and other cultures

Opportunity for learning Japanese culture through festivals, trips, making friends with Japanese students

Support for finding job opportunities while in Japan
COURSES 
1. Long-term courses (12 months and more)
a. Preparatory Course
This course is ideal for those who want to go on to graduate school, university, or vocational school in Japan. In addition to improving the four skills of listening, speaking, reading, and writing, this course also prepares students for university entrance exams and the Japanese Language Proficiency Test.

Applications are accepted twice a year for April admission and October admission.
a. General Course
The general course is a comprehensive course that allows you to learn more advanced Japanese and to be able to respond to employment in Japan.
We accept applications once a year for July admission.
ACTIVITIES OFFERED BY TOKYO KOKUSAI
From Speech Contest, Sports Event and Annual Activities, Tokyo Kokusai Chishiki Gakuin language school has a lot in store for their students. 
If you're looking for other Japanese Language Schools, you might also want to check out
Toyo Language School and Shibuya LALL.
ESTIMATE FEES FOR 1 YEAR STUDY IN TOKYO KOKUSAI – 2023
This is the total costs estimate for studying at Tokyo Kokusai International Academy for 1 academic year. The estimates have been calculated in case of using school dormitory, and the amount will be changed depending on the length of study, accommodation type and living expenses.
Living expenses depend on how much you spend on food, housing, clothes, leisure etc.
TOKYO CHISHIKI

Selection fee

¥ 15,000

enrollment fee

¥ 30,000

Material Fee

¥ 30,000

Equipment cost*

¥ 20,000

Tuition fee*

¥ 640,000

Dormitory 3 months

¥ 150,000

Total

¥ 885,000 yen
T

O KNOW MORE CONTACT US

HERE

OR BY
EMAIL : INFO@MOTIVISTJAPAN.COM
LOCATION MAP