ABOUT: SHINWA FOREIGN LANGUAGE ACADEMY



This school is the epitome of the Japanese language school. High quality courses adapted to student's levels and goals, various events and activities, staff are devoted to helping students to adjust to their new life, regular counseling sessions to guide students, various accommodation options offered to students, as well as part-time job positions.

LOCATION
Shinwa Foreign Language Academy is very well located, in the heart of Tokyo, with three buildings in Takadanobaba, near the renowned Waseda University. Takadanobaba is one of the main and busiest train station in Tokyo. JR Yamanote Line, Seibu Shinjuku Line, Tokyo Metro Tozai Line. So, it's easy to commute from major areas of Tokyo and very convenient.You can feel the youthful liveliness and energy around town. It is also a big hangout spot, there are lot of food and drinks establishments with reasonable prices, such as izakaya, bars, cafes and karaoke.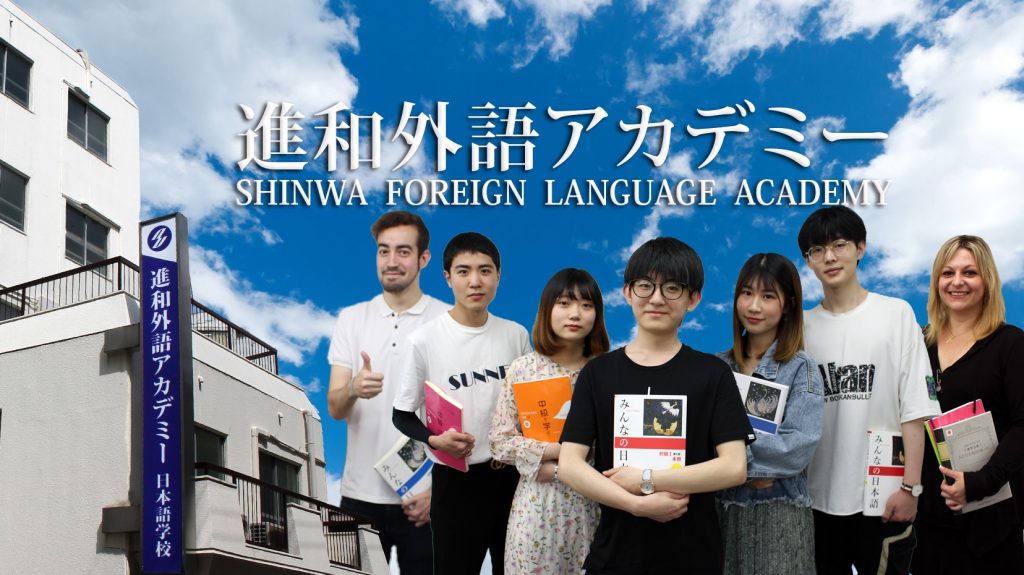 FEATURES 


1. After students arrival in Japan, Shinwa staff help student to get established in Japan by registering them at city hall, getting their health insurance, student discount, bank accounts, train pass, mobile phone and showing them around the area essentials and such.
2. Many teachers, means more personalized guidance for students, one-on-one reviews, translations and assistance to explain difficult lessons.
3. Daily and weekly tests to assess and improve each student's weaknesses.
4. Ongoing personal counseling with teachers and staff to prepare students for life after Shinwa, be it higher education or job hunting.
5. Free EJU preparation course.
6. Partnership with a catering company to place students for arubaito.

COURSES 

1. Long-term courses (12 months and more)

Before you start class, you will take a test to assess your Japanese language skills. You will be placed in a course that matches those skills.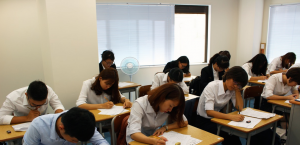 Every day, you will take a mini-test to ensure you have well assimilated the previous day's lesson.
You can choose programs of 12, 15, 18, 21 or 24 months (12-month students are not able to graduate as this is for 15-month to 24-month students only, but they receive a certificate of completion).
Also, advanced students can attend an EJU preparation class and Preparation for Graduate School Admission Exam class.
Information about regular long-term courses:
| | |
| --- | --- |
| Start | January, April, July, October |
| Length | 12 (start in April, July, October or January), 15 (January), 18 (October), 21 (July) or 24 (April) months |
| Schedule | Monday to Friday / Morning (9:00 to 12:25) or Afternoon (13:00 to 16:25) |
| Students per course | Variable – Between 10 and 20 |
| Required Japanese language skills | Beginners accepted |
| Total 1 Year Tuition Fees | 825,000 Yen (10% tax included) |
2. Short-term courses (1 to 6 months)

This is the same regular course as the long-term courses. But the short-term courses are for those who come to Japan with a working holiday visa, or as temporary visitors (3 months or more).
Information about short-term courses:
Start

 January, April, July, October

 Non-beginners may start any month

Length

 3 months

Schedule

 Monday to Friday / Morning (9:00 to 12:25) or  Afternoon (13:00 to  16:25)

Number of students per class

 15 or less

Required Japanese language skills

 Beginners accepted

Total fee for 3 months

 230,000 yen
ACTIVITIES OFFERED BY SHINWA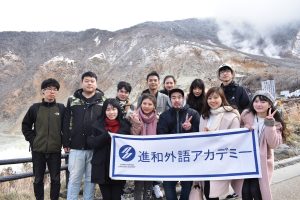 Various field trips, activities and seasonal events are organized by the school. Culture, entertainment, festivals … there is always something going on. Visit museums and temples, spend a day in theme parks, attend school parties and barbecues, and try to wear a kimono … Learning Japanese is also about learning the history, culture and way of life.
ACCOMODATIONS AT SHINWA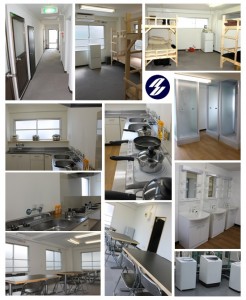 The school has its own dormitory located a short walk (10 minutes) from the school. In the event the dormitory being full, Shinwa can introduce students to various residences nearby the school. Some will be about 5 minutes by foot from the school. The farthest won't be more than 30 minutes by train. Easy commute to make students' life easier.
All dormitories are fully equipped. So, again, students don't have to worry about those things.
Important: for leases of 3 months or more.
Fees are between 140,000 and 160,000 Yen for 3 months. After this, rooms are from 30,000 YEN to 40,000 YEN per month.
ESTIMATE FEES FOR 1 YEAR STUDY IN SHINWA – 2023
Here is an estimate of the costs to study for one year at Shinwa Foreign Language Academy. It includes the accommodation fees. Feel free to contact us if you have any questions.
If you're looking for other Japanese Language Schools, you might also want to check out
Tokyo Johoku School and Hiroshima YMCA.
SHINWA

Application fee

¥20,000

Entrance fee

¥50,000

Tuition fee

¥660,000

Tax

¥75,000

Facilities

¥20,000

Accommodation (Shared 1year)

¥530,000

Total

¥1,355,000



TO KNOW MORE CONTACT US

HERE 

OR BY EMAIL : INFO@MOTIVISTJAPAN.COM

LOCATION MAP