ABOUT: SAMU LANGUAGE ACADEMY
The exceptional lecturers provide practical Japanese lessons.
Samu Language School created a curriculum designed to improve your Japanese ability by learning while having fun.Additionally, SAMU Language School has students enrolled from over 30 countries.This allows you to interact with not just Japanese, but many different cultures, growing on a daily basis.

LOCATION
Shinjuku is an area filled with skyscrapers such as the Tokyo Metropolitan Government Office, large commercial facilities, and entertainment districts such as Kabukicho and Golden Gai. Shinjuku is not only the home of SAMU Language School, but also the center of Tokyo, making it a prime location for commuting, shopping, play, and work. The school is conveniently located, only a three-minute walk from the nearest station, and there are plenty of transportation facilities available for commuting.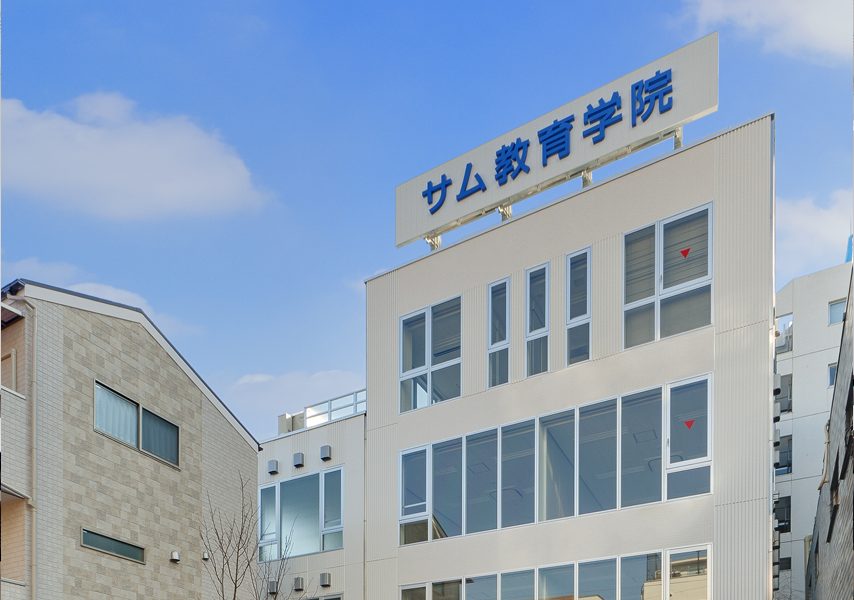 FEATURES 
SAMU Language School offers a comprehensive educational support program, so students can continue on to their desire educational institute smoothly.  
SAMU has employment support programs through it's group company Bridge Academy, aimed at helping students find employment in the company or industry student desire.

COURSES 
1. Long-term courses (12 months and more)
Curriculums are prepared that focus on carefully learning Japanese, ideal for those wishing to move on to institutions of higher education in Japan (graduate schools, universities, or vocational schools) or find employment with a Japanese company. There are four courses available for your study abroad experience. Learn the four skills of Japanese (reading, listening, writing, and speaking) in a balanced manner starting from the basic foundation, and cultivate "usable" Japanese language abilities that match your purpose. In addition to classes on the Japanese Language Proficiency Test (JLPT) and Examination for Japanese University Admission for International Students (EJU), SAMU also offer classes to prepare you for continuing your education through other means or finding employment.
2. Short-term courses (1 to 6 months)
Courses designed for those wishing to acquire a short-term visa and study in Japan for a brief period of time. Ideal for those who wish to start studying Japanese or improve/brush-up their Japanese skills in a short amount of time. Three course options are available for short-term courses. Acquire comprehensive Japanese language skills in a short amount of time, taking classes that match your personal level. Classes are practical and aimed at developing useful Japanese. Courses leave you not only with a sense of accomplishment over what you have learned, but also with a desire to learn more. Even if only joining us for a short, you are welcome to participate in all our cultural experience lessons and extracurricular activities.
Special Courses: Courses designed for those who already have a visa and are living in Japan. Ideal for those who feel like they are having trouble understanding Japanese in their daily life or use it at work and would like to learn how to use it properly. There is no maximum enrollment period, so you can take classes freely until you've achieved your target Japanese ability. Develop comprehensive Japanese language skills by taking classes that match your personal level. Whether studying Japanese for the first time or wanting to learn at a business level, classes are available for you to take according to your own proficiency and purpose.
ACTIVITIES OFFERED BY SAMU LANGUAGE SCHOOL
School provide many opportunities to learn more about Japan, with days set aside to experience wearing kimono, tea ceremonies, flower arrangement, etc.,skiing and hot springs trips to famous locations such as Kusatsu, and more. In addition, school also hold a number of school events to fill your time abroad with excitement, such as barbeques at parks overlooking the Odaiba sea, athletics meets held outdoors, and singing contests with everyone in the class.
Samu Language School offers different type of activities for students such as Get to Know Japan Day, Disaster Drill, Sports Day, Barbeque and Skii and even hot springs trips.

ESTIMATE FEES FOR  SAMU LANGUAGE SCHOOL – 2022
First year

Following year

2-year course
21-months course
18-months course
15-months course

Application fee

21,600 yen

-

-

-

-

Admission fee

54,000 yen

-

-

-

-

Course fee

583,200 yen

583,200 yen

437,400 yen

291,600 yen

145,800 yen

Materials fee

21,600 yen

21,600 yen

16,200 yen

10,800 yen

5,400 yen

Facilities fee

48,600 yen

48,600 yen

36,450 yen

24,300 yen

12,150 yen

Insurance fee

10,000 yen

10,000 yen

7,500 yen

5,000 yen

2,500 yen

Total

739,000 yen X

663,400 yen A

497,550 yen B

331,700 yen C

165,850 yen D
2 Year Course

1,402,400円

X 739,000円

+

A 663,400円

1 Year 9 Months course

1,236,550円

X 739,000円

+

B 497,550円

1 Year 6 months course

1,070,700円

X 739,000円

+

C 331,700円

1year 3 months course

904,850円

X 739,000円

+

D 165,850円
If you are looking for other Japanese Language Schools, you might also want to check out Arc Academy Shinjuku Japanese Language School and JCLI Japanese School.
TO KNOW MORE CONTACT US HERE OR BY EMAIL : INFO@MOTIVISTJAPAN.COM
LOCATION MAP