Nina's story, the winner of our contest | Motivist Japan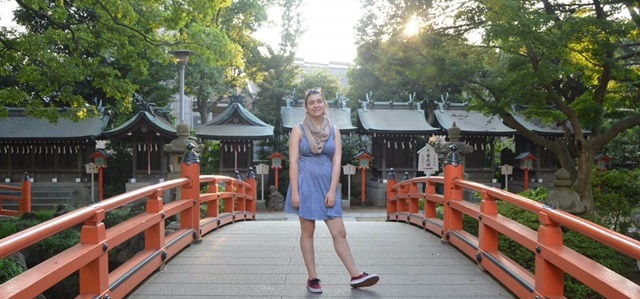 It's by beginning this text that my "adventure" ends.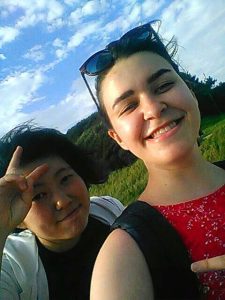 I had to write weekly, but I run short of time I was not able to do it. A big part of this text was written in the train and at the hairdresser. Here is thus the "debriefing" or the summary of this experience which has brought me a lot.
As you would have understood it, here time flies, too fast. Between lessons, homework and excursions, I do not know whether I'm coming or going. Furthermore, we cannot say that the rest is a requirement. Even if I am always on the move I always want to do more. It's the effect of this country on everybody I think.
Every morning I go to Futaba. Right now, as I'm writing, the lessons of tomorrow will be my last hours of class. Between the first school day and the last one I can notice a clear evolution of my level of Japanese. Moreover, this progress was already noticeable from the first week of class. By speaking, listening and reading Japanese every day we get used to the language which makes the learning easier. My classmates coming from almost everywhere (Taiwan, Korea, Singapore, Nepal, Vietnam) and not speaking necessarily English, we practice our Japanese constantly. In an experience as this one, you can feel lonely at the beginning, but when you've met the right people, you are like a duck to water.
My first week was really the one of the adaptation. I had no jet-lag but my stomach being very sensitive I had difficulties with the food (the lack of vegetables and fruits was very much felt). The climate either did not help. However, even with these small problems I was able to participate in some events.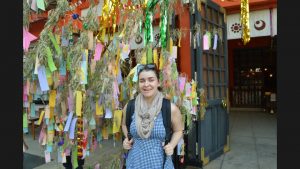 During the first week it was the festival of Tanabata. We didn't have class yet thus we had time to participate in it. This festival celebrates a legend where two lovers, separated by a river of stars, can be reunited only one evening a year, the seven of July. During the period of Tanabata, it is the custom to write a wish or something you're thankful for on a card which we hang on then on a branch of the bamboo planned for that purpose.. Within the school, we also had a bamboo. With my Russian friends, we went to the temple of Chiba to attend a ceremony planned for Tanabata. The weekend, to close this week dedicated to Tanabata, I went to Ueno and to Asakusa with a Japanese friend, Moe, to see the parade realized for Tanabata. I was satisfied to finish this week " of adaptation " by visiting my friend. The courses having not yet begun, I didn't have much acquaintance, only three or four, which could be sometimes stifling.

Thus, it is at the beginning of the second week that I began the lessons. As said previously, it was good to see other students and especially other students who had the same level. I then met for the first time my classmates, very nice and welcoming people and with the sense of humor. Really quickly we all became friends. At noon it is not rare that we eat in small groups in a restaurant nearby and in the afternoon to work side by side on our kanji. I was even invited several times to come to eat in the evening. It is what I liked straight away about the atmosphere of Futaba, not to feel the fact that we are only passing through. By making activities with the people of the school, but outside of it, I really think that we create a stronger bond.
Feeling more at ease with my environment during the second week, it is at this point that I began to really explore the surrounding area. For example, I went to Makuhari (a district of Chiba) to meet the team of Motivist Japan, very nice people! I was also finally able to see the sea. I even went there with a high school student which the name was Yui that I met on the street. It is in those moments that I realized the progress made (with Japanese).


With school, I also had to go to a festival to Sawara but because of a sunstroke caught on the beach I was not able to go there. The next weekend I was however able to go with Moe to Harajuku to see the new trends of Takeshita-Dori, to eat crepes and make photos in a purikura. We also went to Meiji-Jingu, a famous Shintoist sanctuary being situated in a forest in the middle of Tokyo a few minutes away from Takeshita-Dori. This mixture of tradition and innovation is one of the most interesting facets of Japan in my opinion. On one side a very quiet, pastel colored Japan and on the other one an explosion of noise and neon lights.
During this stay I was able to see continually these two faces of Japan. For the side of traditions, I was able to do some calligraphy, to practice the ceremony of the tea, to go pray in temples and to wear a yukata. For the modern side, I went to see a concert in a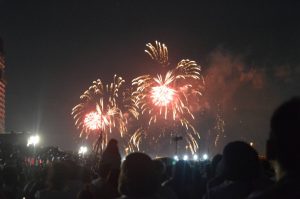 live house in Saitama where I was able to exchange with the artists. I roamed the streets of Ginza and those of Shinjuku, I went to the karaoke with my friends Anju and Moe and in Omotesando I dyed my hair in violet! This two Japan look like the fireworks which I was able to see in Adachi. The firework is an ancestral art but reinvents itself all the time.
Thanks to this experience I was able to learn more about Japanese culture other than through a screen or a book. Knowing the culture is essential when we learn a language and all the more for Japanese where every kanji contains a history.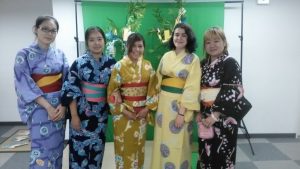 I am someone who has the chance to be able to travel and therefore tries to do it rather often. So I already repeatedly had to say goodbye to the people I have met during my trips. However, I did want to say that It's the first time that I want to stay this much. It is not so much for the city, Chiba-shi not being the most attractive city of Japan **, but it is for the people who live there. I can now say that I walk away from this experience happier than ever.

I cannot thank enough the team of Motivist Japan for having given me this journey, which I hope is not the last one in the direction of Japan. I give a special thanks to Frederic of Motivist Japan who was always there for me, to advise me, make me discover Japan as he could and who invests himself at most in my experience.
どもありがとうございます!
Nina Soufi
* To see the page of our constest (in French), please click here
** Nina, Chiba is not just downtown (not very appealing indeed) … Next time, go explore the peninsula, Chiba Boso … 😛