ABOUT: NAGOYA INTERNATIONAL FOREIGN LANGUAGE SCHOOL



The Nagoya International Foreign Language School was established to teach utilizing the high quality of Japanese education for students from abroad. The school help students to lead themselves to richer lives for their future. The school teachers are well experienced, respected and established in the society. Teachers and staff will provide  support for education and all necessary matters including new life, higher education, part-time job options etc. 

LOCATION
The School is located at Minato-Ward, Nagoya city, this is a quiet residential street which Japanese people like, and is the ideal environment where foreign students can study Japanese language and culture. It takes about 3 minutes to get to the nearest station, it's lively with large large-sized commercial establishment, public facilities and banks. It's approx 10 minutes to the sea by bicycle. Marine climate is always enjoyed and it is one of the coastal area favorable as a place of residence.

FEATURES 

1. After students arrival in Japan, Nagoya International staff help student to get established in Japan by registering them at city hall, getting their health insurance, bank accounts, mobile phone and showing them around the area essentials and such.

2. School teachers help students with guidance with Japanese life style, housing, shopping and working. Also help them solving difficulties and problems by sharing their own experience.
3. Students gets on going personal counseling with teachers and staff to prepare for life after their graduation for higher education or job hunting.
4. There is a cafeteria 2 minutes from school where students take delicious meal with discount to the regular customer price.
COURSES 

Long-term courses (12 months and more)

Nagoya International Foreign Language School offer three intensive courses, 2 years in April, 1.9 years in July and  and 1.6 year in October. The graduation in March. The courses offered in two shift, in the morning and afternoon shift accordingly. Class is 50 minutes per unit and there 800 units per year. These includes extracurricular activities and Japanese culture. Before you start class, you will take a test to assess your Japanese language skills. You will be placed in a course that matches your skills.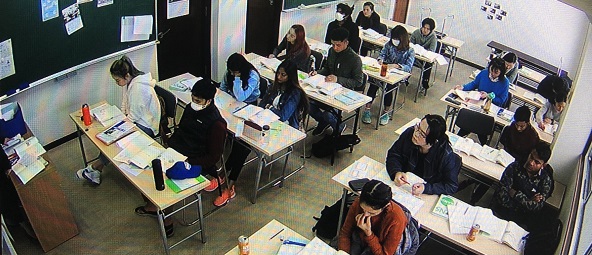 Information about regular long-term courses:
| | |
| --- | --- |
| Start | April, July, October |
| Length | 24 – months (April), 21 – months (July) and 18 – months (October).  |
| Schedule | Monday to Friday / Morning (8:30 to 12:10) or Afternoon (13:00 to 16:40) |
| Students per course | Variable, but approximately 20  |
| Required Japanese language skills | JLPT N5 or above required depends on start date. |
| Total 1 Year Tuition Fees | 755,000 Yen |
ACTIVITIES OFFERED BY NAGOYA  INTERNATIONAL
FOREIGN LANGUAGE SCHOOL
There are various activities in and outside of school including field trips, activities, seasonal events etc.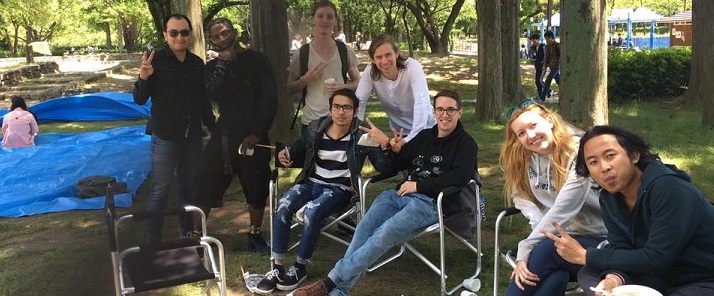 ACCOMODATIONS AT NAGOYA INTERNATIONAL FOREIGN LANGUAGE SCHOOL
School offer dormitory for all of their students. The dormitory building is located in Minato-ward, Nagoya city. It's near the shopping malls and school. Its 10 minutes to school on foots. The Tokaidori subway station is only 6 minutes away. Since a city hall is about 1 km and the Immigration Bureau is about 1.5 km from the dormitory, it is conveniently situated for foreign students. It is on a quiet residential street and living environment is also good.
The dormitory equipped with TV, continuous Internet connection (Wi-Fi), a washing machine, an air-conditioner, a toilet and a bath.
Dormitory entrance cost 60,000 yen per person, internet is free. Water, gas, electricity additionally required. Meal fees are included in rent, 3 meals on school days. There are no meals on weekends, School and National holidays.
The rooms are double and 3 – 6 people per room. For double room 45,000 yen (rent with meals monthly, 3 – 6 people room 35,000 yen (rent with meals monthly.
ESTIMATE FEES FOR 1 YEAR – 2022
Here is an estimate of the costs to study for one year at Nagoya International Foreign Language School. 
NAGOYA INTERNATIONAL FOREIGN LANGUAGE

Enrollment Fee

75,000

Tuition Fee

480,000

Others

140,000

Dormitory (shared) 1 year

480,000

Dormitory entrance fee

60,000

Total

1,235,000 yen
If you're looking for other Japanese Language Schools, you might also want to check out Genkijacs IC Nagoya and Nagoya Sky Japanese Language School.

TO KNOW MORE CONTACT US HERE OR BY
EMAIL : INFO@MOTIVISTJAPAN.COM
LOCATION MAP