ABOUT: KYOTO MINSAI JAPANESE LANGUAGE SCHOOL
Kyoto features great surroundings for students with a rich culture, ancestral history and amazing sceneries. Numerous, and sometimes prestigious, universities (Kyoto University, Kyoto Institute of Technology, Kyoto Seika University …) contribute to a studious though young and lively atmosphere.
Kyoto Minsai Japanese Language School cares about its students' well-being while providing high-quality teaching. At Kyoto Minsai, Kyoto it is not just about learning words and grammar, it is also about getting a feel for the Japanese culture and the Japanese way of thinking. Through this experience, students will have explored the depth of the Japanese way of life.
LOCATION
The school is located in Kyoto , in the central island Honshu, which is the typical and historical city of Japan. Each year many people from around the world come to Kyoto to visit temples of both Shinto and Buddhist origins. Kyoto boosts a history of more than 1200 years, and with a population of around 1.38 million, it is one of the most important cities in Japan. Many cultural events are held every year. In July the "Gion Matsuri" one of Japan's three must-see festivals and in August another big Kyoto event is "Gosan no Okuribi" where big fires are set ablaze in five mountains around the city.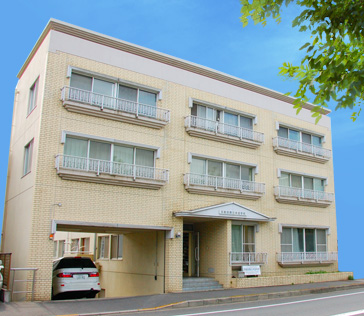 How to get to Kyoto Minsai from Kyoto Station
Take City Bus no. 73. Get off at Kokagakuen Mae and walk for about 5 minutes.
Take Kyoto Bus no. 81. Get off at "Kita Oiricho" and walk for only 30 seconds.
How to get to Kyoto Minsai with Hankyu Trains
Take Hankyu Kyoto line and get off at "Nishikyogoku" Station and walk about 10 minutes
FEATURES 
Small classes enables teachers to be close to their students, and students to improve faster.

Personalized counseling.

School staff assist students in their daily life (e.g. to find part-time jobs, to open a bank account etc …).

Japanese culture teaching is emphasized.

Great facilities (tatami room, large kitchen …) for activities within the school premises.
FACILITIES
C

OURSES 
1. Long-term courses (12 months and more)

You will placed in a class depending on your objectives.
If your goal is simply to learn Japanese and speak it fluently, you will go to a General course.
If you want to go to Higher Education in Japan, you will be prepared to take the EJU (the Examination to enter Japanese universities). This is the Academic course.
Tuition fees (Long-term courses)
| | |
| --- | --- |
| Start | January, April, July, October |
| Length | 12 months, 15 months, 18 months, 21 months, 24 months / For 6 months : contact-us |
| Schedule | Monday to Friday / Morning : 8:30 am to 12:30 / Afternoon : 2 pm to 5 pm |
| Courses | 5 half-days (3 hours and 10 minutes each) |
| Students per course | 12 to 17 |
| Required Japanese language skills | 150 hours of studies or JLPT N5 |
| Tuition fee (1 year) | ¥686,400/year |
2. Short-term courses (1 to 6 months)

The length of those courses vary from 2 weeks to 10 weeks, providing you with great flexibility. Each week consist in 4 half-days of class and 1 day of excursion. You can enroll with a simple tourist visa, or a working holiday visa (depending on your nationality – contact us to know more).
Start

January 11 & 18; April 11 & 18; July 05 & 18; October 10 & 18

Length

2, 4, 8 or 10 weeks

Schedule

Monday to Thursday / Friday : Field Trip / Morning : 8:50 am to noon / Afternoon : 2 pm to 5:10 pm

Courses

4 half-days (3 hours and 10 minutes each) + Excursions on Fridays

Number of students per class

Variable (12 to 17)

Required Japanese language skills

No required Japanese language skills

Tuition fees (all inclusive)

¥192,500/150 hours + ¥11,000 Admission fee

¥171,600/120 hours + ¥11,000 Admission fee
ACTIVITIES OFFERED BY KYOTO MINSAI
Various activities are organized for students in the school and out of the school. Tea ceremony, Ikebana (flower arrangement), Japanese cuisine, calligraphy … It is important that students get familiar with the Japanese culture, customs and activities.
ACCOMODATIONS AT KYOTO MINSAI
Kyoto Minsai Japanese Language School offers various housing solutions to students. Apartments to share with other students, either with individual rooms or shared rooms. Prices vary from 23.000 to 29.000 ¥ per month for shared rooms. From 35.000 to 44.000 ¥ for individual rooms. Equipments vary (micro-wave, internet …) depending on places.

Please note that there is an "accommodation" fee of 50.000 ¥ for insurance, furniture and service fees to be paid once, at the beginning. Also, you may rent a futon for 8.000 ¥ (for the length of your stay). Usually, the apartments are just a few minutes away – by foot or by bicycle – from the school.
If you are looking for other Japanese Language School, you might also want to check out 
Genkijacs, Kyoto and GenkiJacs IC Nagoya School.
ESTIMATE FEES FOR 1 YEAR STUDY IN KYOTO MINSAI – 2023
KYOTO MINSAI

Screening Fee

¥33,000

Admission Fee

¥55,000

Tuition Fee

¥686,400

Facility Cost

¥26,400

National Health Insurance 

¥18,000

Educational Materials Fee (1 year)

¥18,300

International Student Insurance Fee

¥10,000

JLPT Fee

¥13,000

Dormitory Accommodation Fee 

¥50,000

Dormitory Fee 1 year 

¥528,000

Total

¥1,438,100
TO KNOW MORE CONTACT US

 HERE 

OR BY
EMAIL : INFO@MOTIVISTJAPAN.COM
LOCATION MAP