Japanese Language Proficiency Test: Everything You Need to Know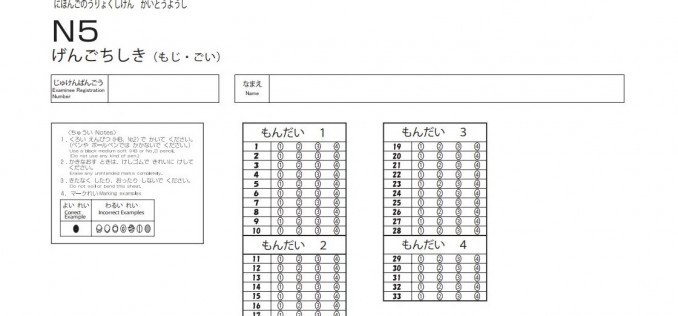 plus
Practically, JLPT is comparable to TOEIC test in English. It consists of measuring Linguistic knowledge (Vocabulary, Grammar, Kanji), reading comprehension, and listening.
For foreign people to work or study in Higher Education institutes in Japan, it is necessary to reach level N1 or N2 of JLPT (Japanese Language Proficiency Test). "N" stands for "Nihongo ("Japanese language")" and "New". As discussed previously here (see our article of December 17, 2015), foreign students who wish to enroll in a Japanese college, university or vocational school must first master the Japanese language. For that, and for all other purposes, the JLPT exam is the best way to assess one's language skills. (Universities also require students to take the EJU exam, which we will discuss soon).
N1 is the highest level of proficiency – the lowest level being N5. N4 and N5 levels measure the understanding of basic Japanese – skills that are mainly learned in the classroom.
N1 and N2 levels measure understanding of Japanese used in a broad range of actual everyday life.
N3 bridges the gap between N4/N5 and N1/N2.
More than half a million people all over the world (in 60 countries) take the JLPT each year. JLPT exams are held twice a year, in July and December.
National universities require N1 level of JLPT for government-financed students. Those who pass JLPT N1 receive 15 points under the government's "Point-based Preferential Immigration Treatment System for Highly Skilled Foreign Professionals" (learn more here). Individuals with a total of 70 points or higher receive preferential treatment at immigration.
Instead of "raw scores" (based on the number of correct answers), the JLPT has adopted "scaled scores". Those are based on the equalization method and allow measurement on the same scale regardless of the time the test is taken. Scaled scores enable the JLPT to more accurately and fairly indicate Japanese-language ability at the time of testing.
The JLPT is tough but, as mentioned before, it is the best way to assess one's Japanese language skills. According to students, N4 and N5 are not too difficult. However N1 / N2 require special training. To increase one's vocabulary, Kanji, and to study grammar is, of course, indispensable. But students must also immerse themselves into Japanese life, e.g. try to read books (Manga), watch Japanese movies, talk with Japanese friends, etc … If you have the ingenuity to improve the way of study, even if you're beginner, with dedication it is possible to acquire N2 within one year.
Although it obviously depends on each individual's personal skills, most people estimate the following number of hours necessary to reach each level (in hours, mixed both in class and personal work):
JLPT Level N5: 600
JLPT Level N4: 1200
JLPT Level N2: 2400
JLPT Level N1: 3600
To learn more about JLPT, you may want to visit the official site: