ABOUT: JAPANESE COMMUNICATION INTERNATIONAL SCHOOL
Japanese Communication International School is a renown school in Osaka. It prepares students whatever their goals may be. Excellent quality of teaching and seminars about business in Japan are some of its features. The capacity of the school is about 500 students. The high number of classes enables students to be placed in the perfect class for them, depending on their Japanese skills and depending on their objectives – whether this is studying in a Japanese higher education institute, working in Japan …
LOCATION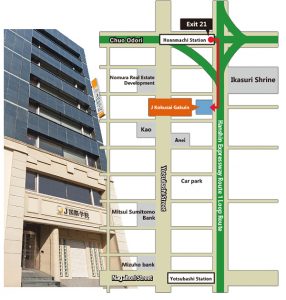 JCOM is located near the Honmachi station which is part of Central Osaka where you can find the famous Glico Man of Dotonbori and Namba Shrine. After school, you can explore the area and don't forget to try the famous Takoyaki of Osaka. 
 2 mins walk from Subway Yotsubashi line Honmachi station Exit 21〒550-0012 1-1-3 Itachibori, Nishi-ku, Osaka city
FEATURES 
1. Great results achieved at the Proficiency test (JLPT) by Japanese Communication International School's students.
2. High-quality living support to assist students whenever they need (get their National Health Insurance, Residence card …), including free or low cost Health Support.
3. Personalized study guidance : appointed staff are there to counsel students.
4. Preparation for the EJU :  private or group lessons on various topics such as mathematics, science, English, if needed by students. (The additional fee is charged.)
5. Many cultural and other activities (traffic safety lessons, life saving drills, business seminars, …).
6. Many fun events (Student Recreation, Field Trip, Sports Day, …).
7. Evening class available (short-term course).
8. Introduction to part-time jobs (and potentially full-time positions after the studies, depending on students skills) through ATEC, an employment agency.

COURSES 
1. Long-term courses (12 months and more)

You will be placed in a class depending on your objectives and language skills.
If your goal is simply to learn Japanese and speak it fluently, you will go to a General course. If you want to go to Higher Education in Japan, you will be prepared to take the EJU (the Examination to enter Japanese universities). This is the Academic course.
You can choose programs of 12 months, 18 months or 24 months.
Choice of classes:
The following levels are available: Beginner I, Beginner II, (Beginner & Intermediate), Intermediate I, Intermediate II, Advanced I, Advanced II, Advanced III, and Super Advanced. Each level is for 3 months.
If you enroll at Beginner I, you will be in the Intermediate level after 6 months. If you start from Beginner II, it will take you 3 months to move up to Intermediate level.
Beginner Class: basic grammar, vocabulary, listening, reading and conversation skills.
Intermediate Class: aiming at eventually reaching JLPT N2.
Advanced Class: preparation for the EJU and JLPT N2 (Advanced I) or JLPT N1 (Advanced II).
General Class: for students who do not plan to go to Higher Education in Japan, nor to be employed in Japan.
Business Class: to prepare students to work in Japan, getting used to the business in Japan (business manners, how to write an email in Japanese), how to prepare for interviews etc …
University Preparation Class
Post-Graduate Preparation Class
Recap information about long-term courses:
| | |
| --- | --- |
| Start | April, October |
| Length | 12 months, 18 months, 24 months |
| Schedule | Monday to Friday / Morning (9:00 to 12:20) or Afternoon (13:10 to 16:30) |
| Students per course | Approx. 20 |
| Required Japanese language skills | 150 hours of studies or JLPT N5 |
| Application fee | 30,000 yen |
| Admission fee | 50,000 yen |
| Tuition fee (1 year) | 700,000 yen |
| Maintenance fee | 20,000 yen |
| TOTAL (1 year) | 800,000 yen |
2. Short-term courses (1 to 6 months)

The length of those courses vary from 1 month to 3 months, providing you with great flexibility. Each week consist in 4 half-days of class and 1 day of excursion. You can enroll with a simple tourist visa, or a working holiday visa (depending on your nationality – contact us to know more).
You will be assigned to a class depending on the result of your placement test. When you pass the class, you can move up to the next level. If you fail the class, you have to take the class with same level next term.
Recap information about short-term courses:
| | |
| --- | --- |
| Start | January, April, July, October |
| Length | 3 months |
| Schedule | Monday to Friday / Morning (9:00 to 12:20) / Afternoon (13:10 to 16:30) / Evening (17:30 to 21:00) |
| Number of students per class | Approx. 20 |
| Required Japanese language skills | No required Japanese language skills |
| Entrance fee | 10,000 yen |
| Tuition fee | 175,000 yen  /  147,000 yen (Working Holiday Visa) |
| TOTAL (3 months) | 185,000 yen   /  157,000 yen (Working Holiday Visa) |
3. Evening course
The evening course is focused more on improving conversation skills than studying composition or reading comprehension. It is a practical class using textbooks, but also Japanese songs and Japanese drama.
4. Yugaku (Summer camp/ Winter camp) (2 weeks)
Not only studying Japanese at school but many activities such as visiting vocational school, experience Japanese cultures, field trip, etc. are included.
ACTIVITIES OFFERED BY JCIS
Various activities are organized for students in the school and out of the school. Tea ceremony, Ikebana (flower arrangement), Japanese cuisine, calligraphy … It is important that students get familiar with the Japanese culture, customs and activities.
To have a look at various events during the year, please click here.
ACCOMMODATIONS AT JCIS
Arkadia Kanzai co.,Ltd provides many apartments within 15 minutes from the school and with wide price range. The specialists from real state agency support housing plans such as short stay (minimum of 3 months), pre-arrangements of furniture and home appliances, and apartment consultation after graduating from J International School. (Available in Chinese, Korean, Vietnamese and English)
The sharehouse, "BeGood Namba Ebisu" running by BeGoodJapan Inc. is located in 20 minutes by bicycle from school.(Available in Chinese, Vietnamese, and English)
If you're looking for other Japanese Language Schools, you might also want to check out
Osaka Japanese Language Academy and International Study Institute Kyoto.
ESTIMATE FEES FOR 1 YEAR STUDY IN JCIS – 2023
Here is an estimate of the costs to study for one year at Japanese Communication International School. 
JCIS

Application fee

¥30,000

Entrance fee

¥50,000

Tuition fee

¥700,000

Maintenance fee

¥20,000

Accommodation (Single room)

¥432,000

Total

    ¥1,235,000
TO KNOW MORE CONTACT US

 HERE 

OR BY
EMAIL : INFO@MOTIVISTJAPAN.COM
LOCATION MAP