Sendai is the center of Miyagi, the 11th largest prefecture in Japan with 1,082,159 inhabitants.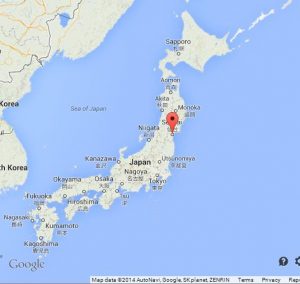 Sendai is situated near the East coast of Japan just in between Tokyo and Aomori, with ~360 km far from Tokyo. To get to Sendai you will need to take either shinkansen ( about 2,5hr ride) or to drive there using the high-way, that will take approximately 4,5 hours. You can also get there faster in about 1 hour 10~20 min, by flying from Narita or Haneda airports.
The history of Sendai starts back in 1600 during the Edo period, when the city name was changed from Chiyo to Sendai (仙台).  Now it's an economically developed metropolitan city, which produces half of all Miyagi prefectural income. Main industries are wholesale and retail; various service industry, building and constructional works and medicine and social services.
There are many great schools around the city, with Tohoku University as its top national educational institution. There are also many other good schools, such as Miyagi University of Education (national), Miyagi University (public), Ishinomaki Senshu University (private), etc.
The summer in Sendai is mild compare to Tokyo, but because of the mountains nearby there are still lots of very hot days. In winter on the contrary, there are much colder, with severe winds and rains sometimes.
If you are looking for sightseeing spots in Sendai, we would recommend visiting Aoba castle, Zuihouden mausoleum complex, or Sendai Astronomical Observatory. If you are a fan of natural beauty spots, we would recommend visiting Akiuotaki Falls, especially beautiful in winter time. In summer Sendai is famous for its festivals with Sendai Tanabata festival (七夕祭り)at the top of the list.
Public transportation in Sendai is very convenient.  You can use subway, JR trains, buses and even a sightseeing bus called LOOPLE, where you can get on and off whenever you like holding a day pass ticket.
For more information about Sendai, please visit the city's official website:
http://www.city.sendai.jp/language/english.html