What Are Japanese Capsule Hotels? | Motivist Japan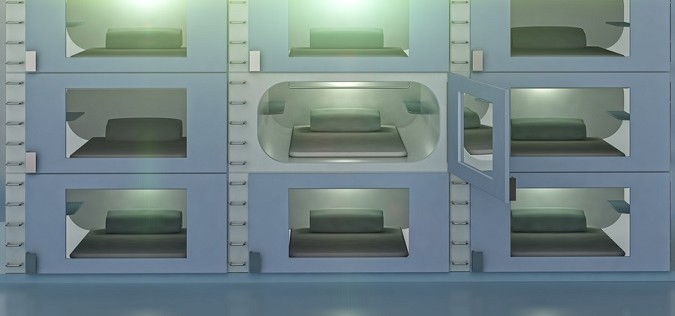 plus
Tourists in Japan often want to experience Capsule Hotels – one of the many clichés of modern Japan. The concept was created in the late 70's in Osaka. Since then, those long corridors filled with 2 rows of "boxes" has, for some reasons, been a fantasy to many a person interested in Japan. Japanese Capsule Hotels are obviously also a way for travelers to save money – while it is a way for Japanese commuting salarymen to finish a night when the wine (beer) was plentiful, or for homeless people to find some comfort at a decent price.
For around 3,000 Yens (25 dollars), visitors get all the comfort they need to spend the
night – not much more. Capsule Hotels provide, as their name suggests, cabins, . Though not spacious (about 1 x 2 meters), they are often equipped with basic amenities: TV (mounted on the "ceiling"), a small table, radio, alarm, air-conditioning, electric supply, Wifi, USB ports … Any claustrophobic person could not not spend a night there, but a geek could bear it.  Some hotels provide individual safes to keep valuable belongings while going to the common areas.
Some Capsule Hotels have hundreds of cabins so ample space is dedicated to communal spaces. Shared facilities include washrooms, restaurants or café (at the very least a space with vending machines) and/or guest kitchens and sometimes laundry rooms, manga rooms, saunas, swimming pools … Extra services may be provided for tenants, such as bicycle renting. Obviously, the least expensive hotels will provide the least services.
In most places, guests receive a yukata and slippers as well as a towel. There may be other gifts such as headphones … Upon arrival, guests dispose of their shoes and luggage in a locker. They may avoid
keeping valuable items with them – if they do, it is recommended that they keep a small bag with them and carry small valuables at all time in the hotel.
Safety may be a concern (some establishments have more than 500 rooms!) and this is the main reason why women are often reluctant to go there. Some hotels have women-only floors, though – and others are actually for ladies only. Usually, cabins are clean – as is the norm in Japan. Evidently, there is next to no intimacy in those hotels. Some cabins have "doors" but most often only a curtain. One may be annoyed by chatting or … snoring neighbors. However, most of the time people remain respectful of others and follow basic rules such as not making mobile phone calls.
Capsule Hotels are still very much a Japanese phenomenon. But, given the lack of space in big cities and widespread budget constraints, we may see more and more of those establishments. As a matter of fact, other Asian countries follow suit, especially Malaysia and Hong Kong. Europe is resisting but a few hotels have recently opened there, mainly near airports. As the Japanese government aims to get 20 millions visitors per year by 2020 (the year of the Olympic games), and 30 millions by 2030, there will likely be more and more Capsule Hotels. Previously seen as "futuristic", one can expect those types of accommodations to spread all over the world, with added features and technology to make the best and the coziest of limited spaces. The future is now.