ABOUT: ARC TOKYO JAPANESE LANGUAGE SCHOOL
ARC Tokyo Japanese Language School was established in 1986, it has 4 campuses (Tokyo School, Shinjuku School, Osaka School and Kyoto School). ARC provides Japanese language education to foreign nationals interested in Japanese culture, its language, higher education or work in Japan. The School prides itself for its dedicated and professional team who always emphasize course structure, programs and lessons materials from students viewpoint. During the class activities one of the topic stressed the most is that student understand the right way to express to communicate, students understand and understood through their self-expression.
Besides long-term Study Abroad and short-term Intensive Japanese Course, school also offer University and Graduate School Preparation courses, Business Japanese class etc. Teachers and staff members are always there to support with students' needs and dreams.

LOCATION
Iidabashi is a relatively big station on the JR Chuo Line. It's a major interchange railway station (Tokyo Metro Tozai, Line, Yurakucho Line, Namboku Line, Toei Oedo Line). There are many tourist attractions near the school, such as Tokyo Dome City, Koishikawa Korakuen garden. There are many stores, coffee shops and Izakaya. As it's centrally located, student can easily travel any other major Tokyo train station/location within 10-15 minutes to half an hour.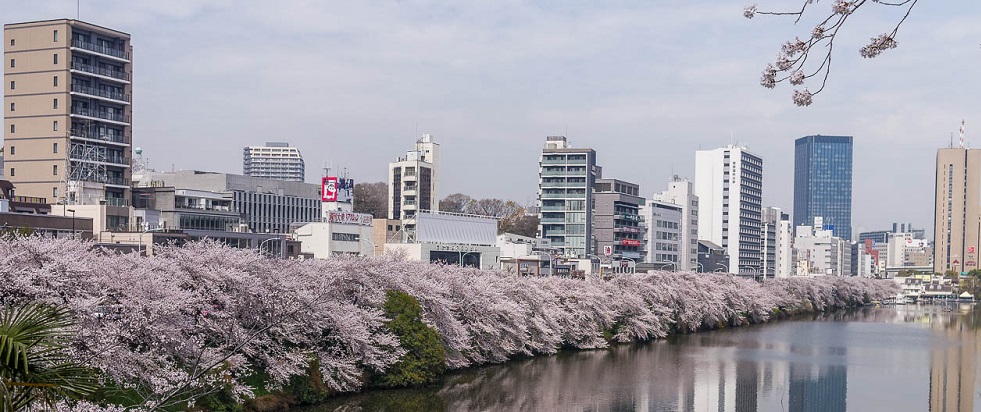 FEATURES OF ARC TOKYO JAPANESE LANGUAGE SCHOOL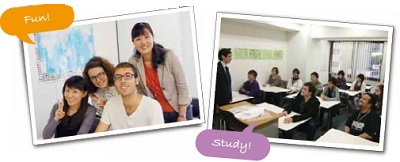 Free wi-fi

Student lounge

School Library (books-novels, manga and textbooks  available for rent, for free)

Prayer room (set up mainly for Muslim students)

Terrace with smoking area in the school yard

Multilingual staff ( Chinese, Vietnamese, Korean, English, French, Italian)

Support and guidance for full and part-time job search

Support and guidance for entering higher education in Japan

Preparation course available free-of-charge (EJU, JLPT N1, N2, N3 levels)
COURSES
1. Long-term courses (12 months and more)
Study Abroad Course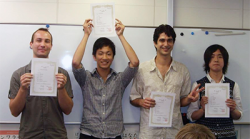 This is a course to get communication skills for students who want to pursue higher study in Japanese graduate schools, universities and vocational schools, and also those who want to get a job in Japan.The goal of courses is to build enough Japanese skill of students for their academic study.
Cultivating communication skills: Since the opening of the school in 1986, ARC Academy has focused our Japanese language education on cultivating communication skills. We create various activities in the classrooms in order for students to be able to learn useful and functional Japanese.
Excellent team of teacher: ARC has produced excellent Japanese teachers who succeed through one of our course "Training Courses in Teaching Japanese." Graduates will be able to communicate in Japanese naturally through taking classes with selected teachers.
Start Date

April, October

Duration

1 Year – 2 years

Schedule

Intermediate – Advanced Level: Mon-Fri 9:15-12:30




Beginner Level: Mon-Fri 13:30-16:45

Number of lessons

20 lessons a/week

Number of students in a class

Average 20-22

Required Japanese skills

Basic knowledge is required

Total 1 Year Tuition

820,000 yen/year
2. Short-term courses (1 to 6 months)
The Intensive Course is suitable for people who need Japanese language for work or daily life in Japan or for those who are simply interested in the Japanese language.
4 skills: Students will learn 4 skills of language, speaking, listening, reading and writing. The focus is especially on speaking and listening so that students can learn natural and smooth Japanese.
Direct method: There are certain nuances in a language that cannot be translated to other languages. Therefore, ARC believes teaching Japanese in Japanese, even at a basic level, and making students be familiar with the language is the quickest way in the end to acquire the language.
There are also students from all over the world and it is difficult for the teachers to teach in each student's language.
Class teachers: Each class has their own class teachers. Class teachers know the best way for each student to improve their Japanese and give effective advice according to students' needs.
Start Date

January, April, July, October (starting 2020, class will be offered in Shinjuku, Osaka and Kyoto branches only)

Duration

3 months (48 days of class)

Schedule

Morning Class: Mon-Fri 9:15-12:30




Afternoon Class: Mon-Fri 13:30-16:45

Number of lessons

20 lessons/week

Number of students in a class

Average 20

Required Japanese skills

Basic knowledge is required

Total Tuition 3 Months Tuition

190,000 yen 
ACTIVITIES OFFERED BY ARC TOKYO LANGUAGE SCHOOL
Students learn Japanese culture in a full day, such as tea ceremony and traditional sweets cooking, once every terms. The speech contest will be conducted in the last day of every term.
ACCOMODATIONS AT ARC TOKYO LANGUAGE SCHOOL
Private Dormitory
Arc Tokyo Japanese Language School Idabashi will introduce our partner accommodations which are within the areas that are convenient to commute to the school.
Some of their housing partners are:
1. Sumitomo Forestry Residential Co., Ltd.
http://www.sumirin-residential.co.jp/kaigai/english/index.php
2. Tokyo Life Style
http://www.tokyolifestyle.co.jp/main
3. DK HOUSE
http://www.e-guesthouse.com/eng/
Homestay
We ask a homestay placement company to arrange the homestay for students. You can live with a Japanese family in their house for a short period of time.
ESTIMATE FEES FOR 1 YEAR STUDY IN ARC TOKYO – 2023
Here is the estimated cost for one academic year at ARC Academy. It is based on dormitory (Single room, 45,000 yen/month). The estimated cost will be changed depending on how you stay.
If you're looking for other Japanese Language Schools, you might also want to check out
International Study Institute, Ikebukuro and Arc Academy Japanese Language School.
ARC TOKYO IIDABASHI

Application Fee

¥30,000

Registration Fee

¥70,000

Tuition

¥720,000

Dormitory Fee

¥540,000

Total

¥1,360,000
TO KNOW MORE CONTACT US HERE OR BY EMAIL : INFO@MOTIVISTJAPAN.COM