ACCOMMODATIONS IN JAPAN
Most schools offer various accommodation to their students. In some cases that school is not able to support the housing accommodation of the student, student will be asked to contact real estate agency directly, which could be complicated and difficult.
If you are planning to avail a school accommodation, please let us know your intention as early as possible so we can inform the school beforehand. Sometimes the availabilities of the room is limited as they are being booked for a year or for the whole intake by students ahead of you. If in case you failed to have a reservation with the school, don't worry we are also partnered with several housing companies that can cater to your needs and budget.
 
In choosing a place to stay in, you need to identify which is your priority. Do you want a place near the station? Near the school? How much budget you have? Is it convenient? Our affiliated housing companies all over Japan will be able help you find something that's within your budget. Please note that housing company cannot hold a place for you for a long time. We suggest that once your COE is approved, find a place and pay the move in fees so that your place is already secured upon arrival to Japan.
If you course your application through us, we will help you through the entire selection and finding process until you find the one that suit your needs.
Please check following housing company for accommodation type, cost, location and facilities.       
Dormitory/Sharehouse: J & F House (Kanto, Kansai); Xross House (Kanto)
http://www.jafplaza.com/en/index.php
https://x-house.co.jp/en/


Apartment : Xross House (Kanto)
http://www.jafplaza.com/en/index.php
https://x-house.co.jp/en/
Homestay:  (Homestay in Japan)
http://www.homestay-in-japan.com/
Things to consider when choosing you accommodation

Location:
How far and how convenient is the commute to and from the school? How are the surroundings? Is there a convenience store, supermarket or a shopping center nearby?
Distance from the station to accommodation also a big factor. Accommodation within 5 minutes from the station costs higher than accommodation 15-20 minutes from the station. 
Building age:
How old is the building? Some mansions can have the old Japanese style room or tatami floors.
How bright is the place? Which floor?
Brighter room with nice view are higher than those on first or lower floors. Usually rent are cheaper on lower floors.  
What extra fees involve?
Sometime there are some hidden fees which you might not know through the advertising. It's important to ask the total move in fee and what it is composed of.     
KEY VOCABULARY WHEN RENTING AN APARTMENT
Yachin: the rent, to be paid monthly and in a timely manner.
Shikikin: the deposit, usually equivalent to 1 or 2 month(s) of rent – refunded
Reikin: also paid upfront to landlord, usually equivalent to 1 or 2 month(s) of rent – nonrefundable.
Kyouekihi: for the facility, paid monthly
Chyukai-tesuryou: the commission of the agency, usually the equivalent of 1 month of rent
1R -> Studio apartment, 1 room only

1K -> 1 bedroom with kitchen

1LDK -> 1 bedroom, living room, dining room
DORMITORY
Dormitory room usually shared between two or more people, maximum six people in a room. The kitchen and bathrooms are shared, some rooms may be equipped with their own fridge and bath room.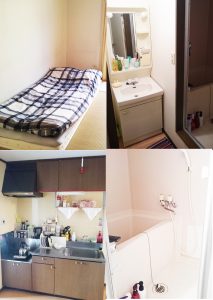 Pros: It is the cheapest accommodations in Japan (it can be as low as YEN 29,800 per month). One gets to meet people and make friends. It is also not necessary to buy furniture and equipment
Cons: No or very little privacy, common facilities, rules to abide by, possibly a curfew.
SHARED APARTMENT
It is probably the best compromise to live an autonomous life at a reduced cost.
In a shared apartment, one can lead a more independent life by having their own room, though the facilities are shared.
Pros: Easy to avail, reasonable priced, good way to meet people and make friends, furnished and utilities included.
Cons: Shared facilities and with limited privacy. One can never be sure of getting along with their housemates. If you are not comfortable sharing toilets, bathroom or kitchen with others and want more privacy then share house is not a good choice for you.
APARTMENT (STUDIO)
Complete privacy. The apartment might be partly furnished with table, chair and bed. Rest of the appliances should be purchased by you.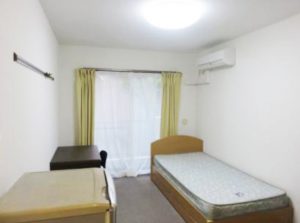 The cost can vary greatly, it depends on location, its surroundings, size of the apartment, the building's age, the appliances and also length of the lease. The minimum budget will be YEN 45,000+ (Utilities of about YEN 7,000 – YEN 12,000).
Pros: Total privacy, being independent and having one's own pace.
Cons: This is the most expensive accommodation, as you need to deal with utilities and furnishing (furniture and other equipment to buy).  
HOMESTAY
Home-stay is the best way to experience life as a local. This is best if you want to slowly adjust your life in Japan with a Japanese family. You can learn a lot about Japanese culture and customs. You can also practice your Japanese by interacting with your host family.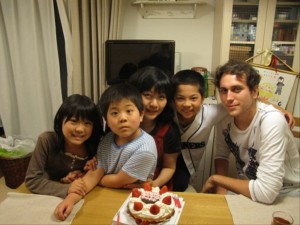 We can help you find a homestay family and arrange everything, depending on your preferences.
In a home-stay, you will have your private room but you need to share the facilities. Breakfast and dinners are included 7 days a week, lunches are included on the weekends and holidays.
Pros: This is immersion in Japanese life. A great way to adjust to one's new life, learn about the local, area and of course improve your language skills and knowledge of Japanese culture altogether.
Cons: Homestay requires self-discipline to mingle and to respect the rules set by the family. Also, it is quite costly if you plan to stay for long time. Normal rates starts at 3,500~per day.
Disclaimer: For homestay, we can let the homestay company know student's intent but student will communicate directly to the company